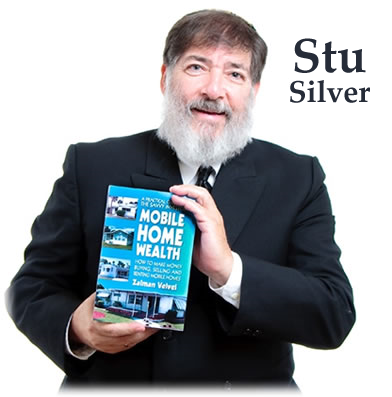 Learn How to Get a Free Mobile

Learn How to Get a Good Deal on a Mobile to live in

Want to make money on investment property even in today's economy? Two highly acclaimed mobile home investing books are available here, also: "Mobile Home Wealth and Mobile Home Wealth Part 2".
There are also two complete Home Study Courses, and a SAM Camp for Mentoring people who want to invest in Mobile Home Parks.
Stu Silver or "Uncle Zally" is a multi-millioinaire with almost a 1,000 rental units, and a dozen mobile home parks. He has trained 5,000 people around the world during the last 20 years.
Follow the buttons or tabs above and their drop down menus, or click below:
— How to Find a Free Mobile Home
— How to Get a Good Deal on Mobile Home to Live In
- Mobile Home Wealth Systems on CD's
— Mobile Home Park Investor Live Mentoring
Take a video tour of the site, learn about our real estate training programs on mobile homes, and STUDENT TESTIMONIALS, by going to "Watch my Video!" on the top right. Add your name to our mailing list on the right, to stay up to date with what's happening in the real estate investment property world.
You have an Uncle in the Mobile Home Business.
And when Zally is your Uncle, he is your Uncle for Life.